DELAY TACTICS | Techno Ambient Pop Pioneers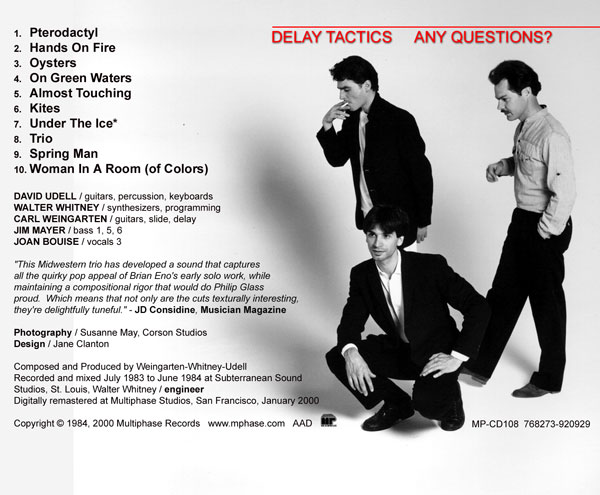 JD CONSIDINE, MUSICIAN MAGAZINE

"This Midwestern trio has developed a sound that captures all the quirky pop appeal of Brian Eno's early solo work..."

KEYBOARD MAGAZINE

"...an instrumental rock set that seems influenced by non-ambient Eno and perhaps Bill Nelson."

Techno ambient pop, soaring space guitars, keyboards, sound effects and tape delay, the Delay Tactics trio was among the first American bands to produce music using digital effects, and was most innovative indie bands of the 1980s. Formed in 1981 as the tape-looping duo of guitarists Carl Weingarten and Reed Nesbit, Delay Tactics made its mark with late night concerts in St. Louis movie theatres. Within a year, synthesist/sound designer Walter Whitney joined the band while recording the first Delay Tactics album, Out-Pop Options (Multiphase 1982). Nesbit departed in 1983 and was replaced by guitarist David Udell (of Wax Theatricks) and Delay Tactics released their second album, Any Questions? (Multiphase 1984). A third LP was started in 1985, but never completed. Highly praised by Musician Magazine, Keyboard, Option and other publications, Delay Tactics was a hit on college radio, receiving extensive play throughout the U.S., including flagship stations KCRW in Los Angeles and WNYC in New York. Only 1000 copies of Any Questions? and 500 units of Out-Pop Options LPs were pressed. They are now considered collector's items.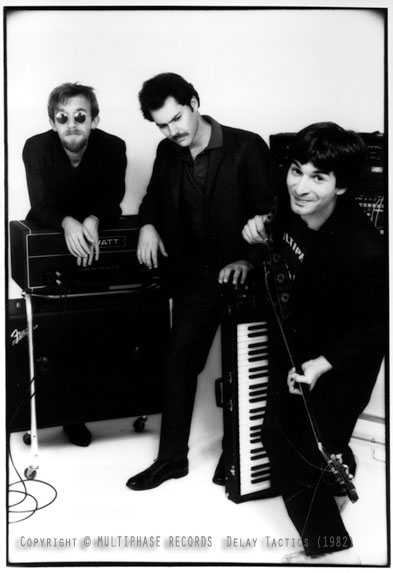 After their two LPs, Delay Tactics continued producing music, but only on a part time basis until 1992. DT collaborations also appeared on Walter Whitney's Composer X (Multiphase 1983), The Urban Cabaret Vol I-III (Multiphase 1982-1987) St. Louis music cassette series, as well as Weingarten & Whitney Primitive Earth (Multiphase 1990) and on Carl Weingarten's Pandora's Garage (Linden Music 1992).

COMING SOON
Any Questions? (Multiphase Records 1984)

1 Pterodactyl 3:12
2 Hands On Fire 3:44
3 Oysters (w/Joan Bouise) 3:28
5 Almost Touching 4:27
6 Kites 6:04
7 Under The Ice 4:17
8 Trio 0:50
9 Spring Man 2:56
10 Woman In A Room (Of Colors) 3:37
Out-Pop Options (Multiphase Records 1982)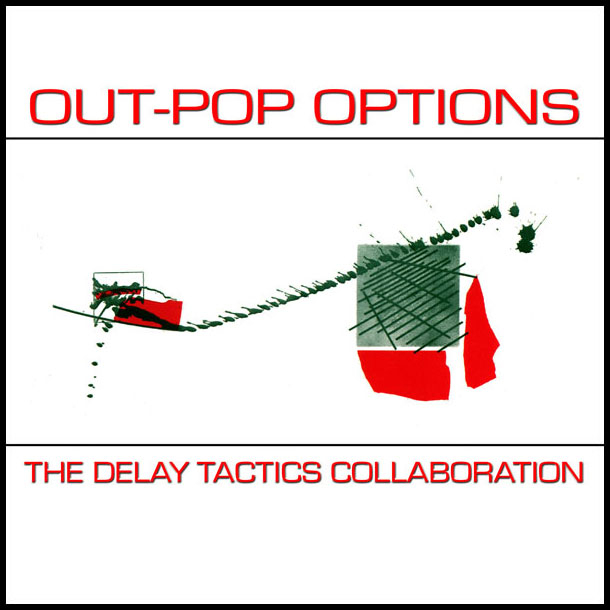 1 Yellow Samba 5:31
2 This Time 1:52
3 Five PM Expressway 2:45
4 On The Roll (Bass – Jim Mayer) 2:20
5 Journey To Omdurman 2:32
6 Le Noeud De Viperes 4:25
1 Cymbolia 3:45
2 Rommie Dancing 3:41
3 Chasing Moroder 5:37
4 Basic Tactic 1:57
5 Departure 2:48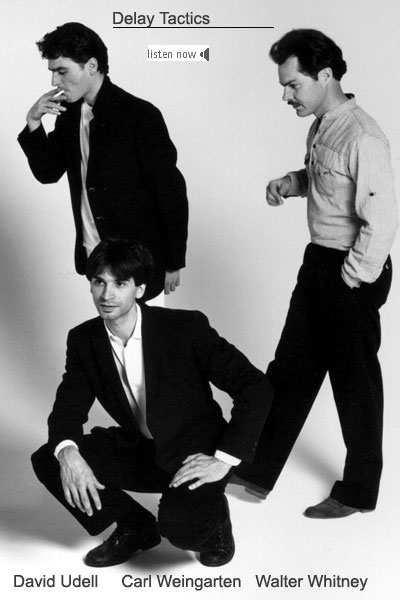 Band members 1982-1986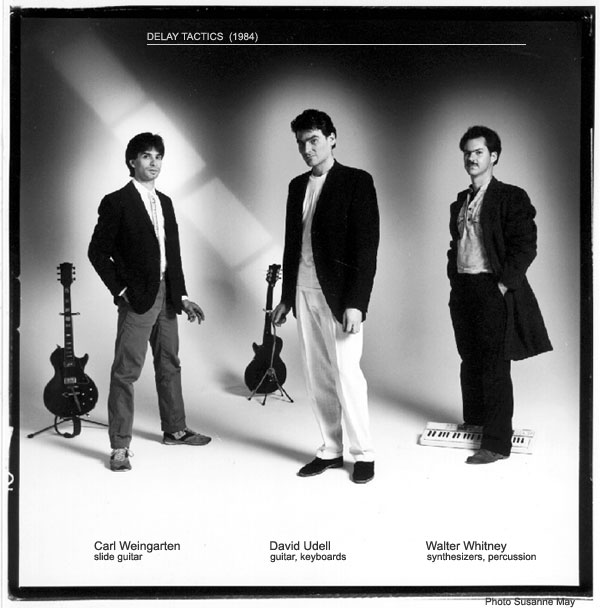 Carl Weingarten - slide guitar
David Udell - guitar, bass, percussion
Walter Whitney - synthesizers, keyboards
Band members 1981-1982
Carl Weingarten - slide guitar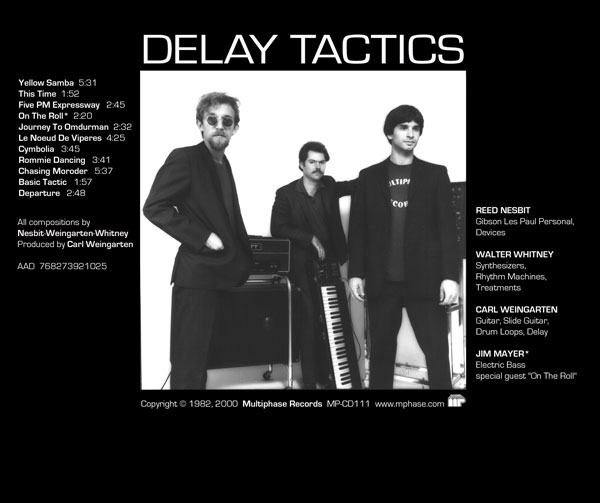 Reed Nesbit - guitar
Walter Whitney - synthesizers, keyboards
Special Guests
Joan Bouise - vocals
Jim Mayer - electric bass
Susanne May, Jerry Huth - photography